Gary, Jamie and I recently decided that we would head abroad to show Jonny Foreigner just what British climbing talent is all about. We proposed to do this by clipping ourselves into the nice metal handrails they've bolted to their mountains. By golly, that'd show them British grit and determination!
We had decided in advance that we wouldn't be hiring native Nepalese sherpas on arrival; this was primarily because we were flying to Venice. Dr. Buxton and I arrived first, with Dr. Mirams appearing soon after, and so we shouldered our bags and began the arduous first leg of the trek to base camp. After toiling through the searing heat for almost 300 yards we eventually found the hire car, and the subsequent drive to the Dolomites passed without incident.
On our arrival, the 'hut' we had reserved via telegram from England proved comfortable enough. The evening took a bizarre turn when the only dining room still available at such a late hour had an entrance which was an exact copy of a London tube station, from where a flight of stairs led underground to deposit one in a Thai restaurant run by Italians. A rather unexpected outcome, but the food was quite delightful and revitalised us for as long as it took to stagger home to bed.
The morning dawned misty, and continental. We breakfasted on a traditional European dish, known as "Special K". Thus fortified, we set out for the day's objective. The locals had obviously heard of our intentions to conquer their prized peaks, as crowds of them formed around us at the bottom of the route. They all did the decent thing and pretended to be interested only in their own ascent, rather than staring at the Dream Team as we wound our way up the route known as "Brigata Tridentina".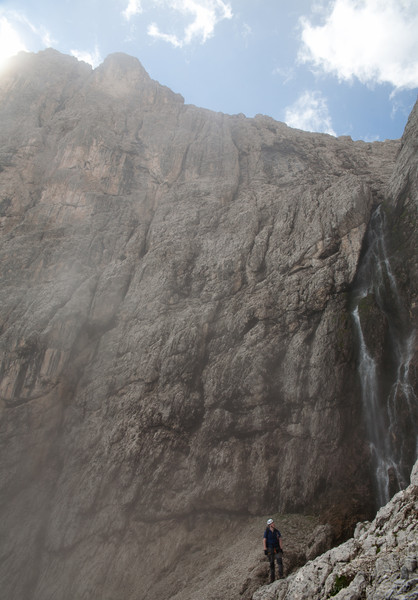 Teetering on the steep and exposed limestone, our only solice came from the thick metal wire to which we were each attached by equipment with a breaking strain of several tonnes. Undaunted, we pushed on upwards, over a spectacular chasm-spanning bridge, eventually arriving at the rifugio above Torre Exner.
Buoyed by our success in the face of such adversity, Dr. Mirams celebrated our achievements with glass of an intriguing local beverage which – after much build-up, not to mention difficulty with the language barrier at the bar when ordering – turned out to be nothing more exciting than lemon cordial. We returned to the valley by an extended route, allowing us to note how similar the scenery is to the English Lake District, if one squints quite a lot and uses a not-insubstantial amount of imagination.
Day two, by contrast to the first, was decidedly British in its weather. Torrential rain greeted us on waking, and continued for most of the morning. It's well known that we British pioneered mountaineering in Europe over a century ago, and we were pleased to be able to take refuge in an establishment obviously modelled on that bastion of British climbing, Pete's Eats.
Eventually the rain subsided to a level best described as "heavy", and so we laced up our boots, shouldered our packs and prepared ourselves for the long ascent to the Trincee ridge. The cable car was reasonably speedy however, and so we soon found ourselves at the foot of the ridge.
It quickly became clear that the inside of an Italian cloud is remarkably similar to the inside of a British cloud, and in such familiar surroundings we moved quickly and efficiently along the narrow ridge and through the wartime tunnels.
Another fortifying beverage at Rifugio Passo Padon steeled us for the lengthy return hike, and with dogged determination we just managed to cover the 1.5 miles back to the cable car in less than the guidebook time of 1h 15m.
Throughout the route we saw no sign of previous expeditions, apart from the signposts, footpaths, man-made tunnels, buildings and via ferrata cable. We can therefore only assume ours was the first traverse of the ridge. Unfortunately none of us had a union flag to hand, although we did record our success in the visitor's book at Bivuaco Bontadini.
With acclimatisation complete, day three saw us attempt the most ambitious route of the trip. Previous ascentionists had warned of loose rock, a long committing route, and trolls. Our view of the route on the approach prompted phrases such as "improbable" and "unlikely", but a desire not to disappoint Her Majesty drove us onwards to follow where only several thousand Italian amateurs had trodden before.
We moved quickly onto very steep ground, with wet, polished limestone slabs providing good sport. Steep-to-overhanging ladders proved less of a hazard than the errant rock dislodged by Jonny Foreigner toward Dr. Mirams' head (presumably an effort to thwart our valiant British assault on their prized mountain). A splendid traverse across a slab in an excellent situation led to easier ground and eventually to the summit.
Hearty congratulations were offered all around, before we again took advantage of the infrastructure kindly installed by a man with a power drill, and followed the cable back to footpaths at a more reasonable angle. The day was extended by some rambling along a ridge, and further embracing the local tradition of taking a drink before descending the mountain one has just scaled.
Plans for the final morning were hastily re-arranged when the cable car we proposed to take to the start of our route was found to be missing a fairly fundamental piece of its infrastructure (namely, the cable). We instead shifted our focus up the valley and quickly out-rambled some locals towards the start of the route. The scrappy, loose gully scramble to the VF cable served only to further my suspicion that the metalwork serves as much to hold the rather friable mountains together as it does to facilitate upward travel. We completed a pleasant ascent of the route, albeit without any views from the summit, and managed to unclip from the descent cable moments after a thunderstorm began. Impeccable planning meant we arrived at the airport check-in desk in plenty of time to begin that most British of activities, queuing.