After a couple of abortive pandemic-struck attempts at a Paddy Buckley round, I decided to stop focussing on a load of hills I've already run across hundreds of times, and strike out for somewhere new instead. Abraham's Tea Round has been on my list for a while now, and so I found myself outside George Fisher in Keswick at 07:30 on a Friday morning in early July.
The route visits all of the summits visible from the cafe upstairs in George Fisher, clocking in at almost 47 km and over 3,000 m of ascent.

I hadn't really read much about it, and didn't really know the route, so set off very much with a 'suck it and see' mentality. The one thing I had figured out is that it was easy enough to just turn around and head home at any point if I wasn't feeling great.
Fortunately I went well around the top end of Derwent Water and Catbells, which I'd not been up for 25 years or more. Up onto Robinson, and I passed another couple who were also out on the round. The descent to Buttermere provided the day's first bit of excitement, being a super-steep descent that dropped height at a ludicrous rate.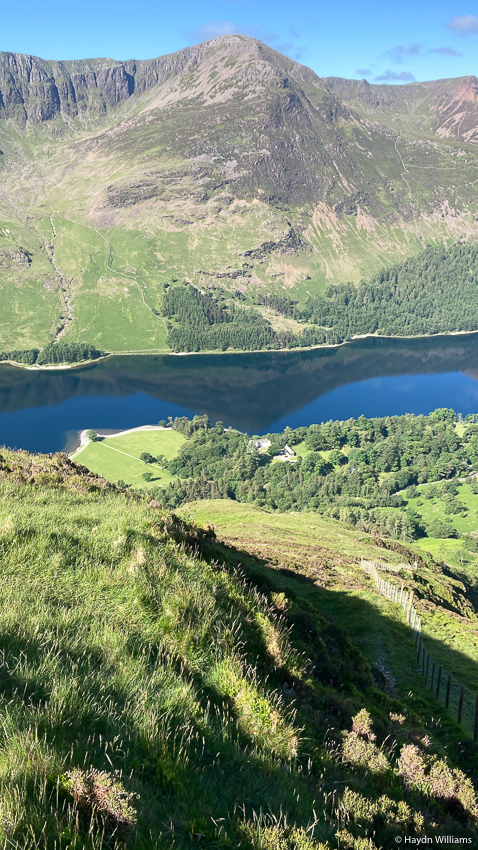 From there it was decision-time as to whether I continued on the Round route or skipped High Stile and headed for the return leg. Everything was going well though, so I turned left and skirted the lake shore.
The heat really started to kick in on the rising traverse below Low Crag, so I was glad to refill my water at Comb Beck and cool down with a general splash around. I had some vague timings in my head for a 10-hour round, and had to start pushing hard to the summit of High Stile to keep them in sight.
From there it was around to Red Pike – not visible from George Fisher, but the recommended route down to Buttermere to minimise erosion. Last time I visited Red Pike was on the Great Lakeland 3 Day in 2016, in zero visibility and finding the summit only with the assistance of some fellow Bowliners. It was much easier to find this time!
Down to Buttermere, and the heat of the valley. Fortunately the cafe was open, so I downed coke, water, a Calippo and some chocolate to rehydrate and refuel. Another pull uphill in the searing heat, and this was the first point at which I considered cutting things short. I was a bit worried that this section went a long way without any shade whatsoever, but the climb wasn't as bad as I'd remembered.
Another refill of water approaching Coledale Hause, and I hit the first of two out-and-back sections. I knew it was coming, but hadn't looked in any detail at the map, so was a bit demoralised to see just how far it was out to Grisedale Pike.
Fortunately it looked worse than it was, and I found a nice traverse line on the return leg to avoid having to go all the way to the top of Hobcarton Crag twice. A sit down halfway up Eel Crag and some mental arithmetic provided the realisation that I could probably still come in under 10 hours if I stopped faffing and carried on running. Thus, I knuckled down and knocked off the final couple of summits and descended on wobbly legs into Braithwaite.
From there the 10-hour deadline was looking OK, and 09:30 seems distinctly possible. I've never been a fan of running on the flat though, so I had to dig deep past Portinscale and around the throngs of holidaymakers in Keswick to the door of George Fisher.
At 09:34 as my final time I didn't quite hit the revised deadline, but as a decidedly average runner I was pleased with a quicker-than-average completion. The contrast with the scene of my recent exploits, the Paddy, was lovely, giving good running and very little pathless meandering. I'm sure I could do sub-9 hours on a cooler day (and knowing the route now), but the newfound desire to visit other places means I'm unlikely to try any time soon. :)