My diary sometimes ends up rather packed. Last weekend was a perfect demonstration of this, kicked off by a morning start to the Pedol Peris (Peris Horseshoe) race.
The race is known as being one of the toughest in the UK, and I dealt with any nerves about the distance (just shy of 30km) and height gain (≈2600m) by ignoring the whole thing until about ten minutes before the start. Unfortunately the small field of 45 rather serious and fit-looking people lining up on the start rather brought it home that this was not a race to be messed with. Fortunately I knew almost the entire route, except for two 800m sections at the start. The first 800m was flat to the edge of the quarries, and the next 800m was up to the summit of Elidir Fawr. I've always said that the Welsh 1000m short course has the most brutal start of any race I've done, but this is a top contender too.
Anyway, in a nutshell I was fine to the top of Glyder Fawr, took an amazing line down the red dot path (the first time I've done so, achieved only after serious recce-ing following two dismal failures in previous races), and then suffered horrifically up Y Lliwedd. A great chat about local flora with a chap from Eryri distracted me from the pain until the Watkin Path to the summit of Snowdon. From here it was all about damage limitation, and as my legs tightned up I stumbled down the Snowdon Ranger and over Moel Cynghorion at a pace best described as 'sluggish'. Eventually I made it back to the lake in Llanberis, and across the finish line.
My confirmed time was 5h 45m, placing me 34th out of 52 starters. There are plenty of races where you say "I'm not bothered about doing well; I just want to get around.", but it was really true with this one. The weather was reasonable – a bit of rain made the rocks slippery and hard going, but seeing the summits blowing in and out of the clouds was magnificent. I'm pleased with my performance, although it did prove that what I thought was "hill training" is actually "molehill training", and I'll have to up my game if I want to enter and do better next year.
After a brief recovery I met Gareth and Jono at Nant Gwynant, and we passed a very pleasant evening catching up around a camp fire and managing to dodge the rain. A short walk around the lake in the morning confirmed that my legs did actually still work, and then I retreated back to my parents' house for a nap.
Monday saw us take on the fastest zip line in the world, in the slate quarries at Bethesda. I've been driving up and down the valley for years, so it was great to finally get up to the top and look down on the old quarry section where the zipline goes, and the active part towards the coast. It was a family affair, so with two lines side-by-side Gareth and I went down together (it wasn't a race, but I won) and then Mum and Dad followed. It's certainly a unique viewpoint from which to see the quarry and its surroundings.
I had hoped to stay for that evening's Tryfan Downhill Dash but unfortunately the timings didn't work out. Instead I went for a couple of laps of Idwal earlier in the day instead, which were hard work to begin with after Saturday's antics. However, I soon settled in and had a very enjoyable bimble.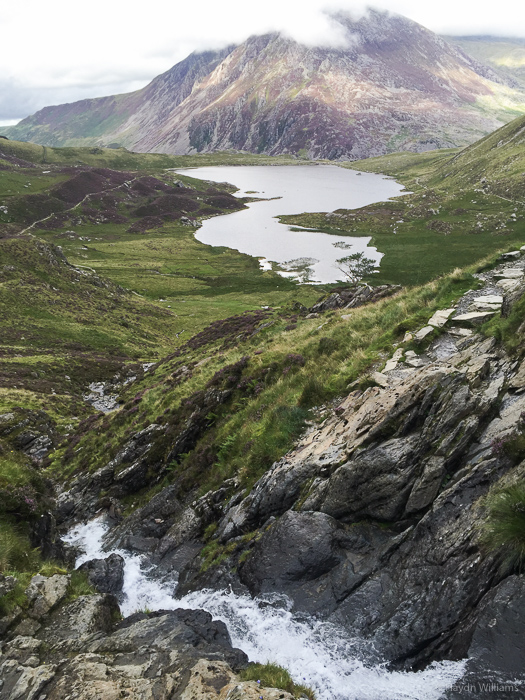 One reason I couldn't stay for the Downhill Dash was that I had to be at Rockingham Castle at 09:00 the following day for 4×4 training. We're going to Iceland soon, with a 4×4 to explore the back roads, and I figured I should probably have at least a vague idea of what I'm doing. It turned out that I had been assigned the Lead Instructor, who does stuff like scaring TV presenters in his spare time:
https://youtu.be/0anp0-Hsw_A?t=31m08s
Thankfully we weren't doing anything so extreme, but we were soon getting up, down and around stuff I hadn't even dreamed of driving over. A healthy dose of rain the night before helped make it a bit more exciting, but Edd was a great instructor and I'd highly recommend Protrax to anyone looking for something similar.
The fun continued on Wednesday, with a healthy dose of SCIENCE! In possibly the most romantic gesture ever made, I booked a surprise for Becs and took her for a guided tour of the Diamond Light Source synchotron in Oxfordshire. It's basically a source of really intense x-rays (mostly), which are used to study everything from proteins and DNA to the blades of jet engines.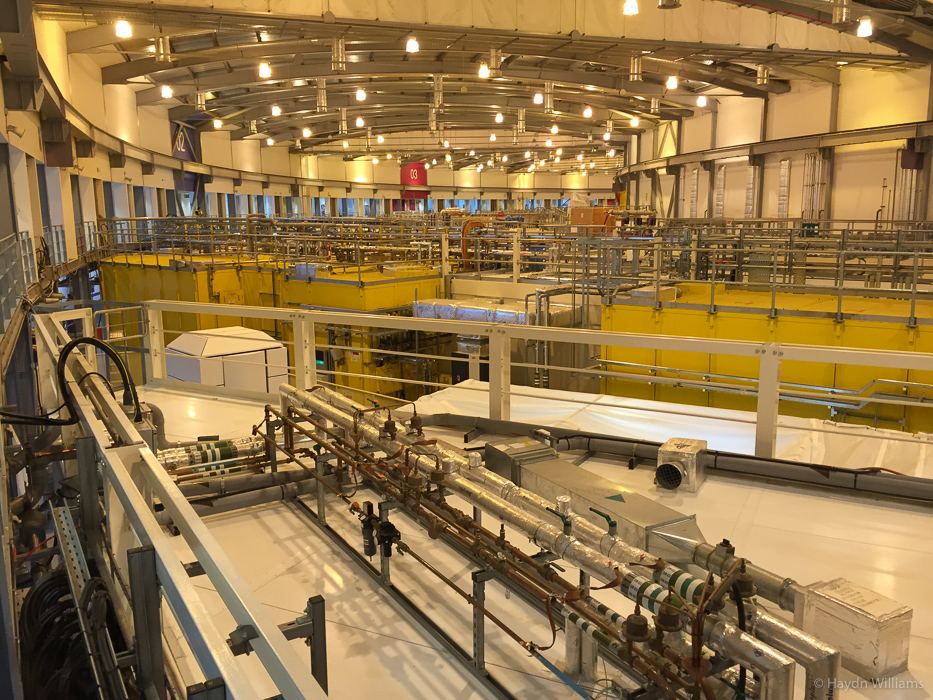 It's in the classic ring shape which everyone now knows from CERN, but this one uses electrons (CERN uses primarily protons, and smashes them together – Diamond perturbs the electrons to generate the x-rays instead). The electrons are fired from a tungsten filament into a linear accelerator, then a booster ring where they pick up more energy by circling 178,000 times, getting a 'kick ' of energy each time. This gives them up to 3 GeV of energy, making Diamond the brightest such source in the UK, and fifth-largest in the world.
The electrons are then dumped into the outer storage ring, where they sit for an average of 14 hours, with multiple massive magnets keeping the beam bent into the circular shape. They are eventually diverted from the storage ring into a variety of beamlines where the experiments take place. The cool thing is the scale of the engineering in comparison to the electrons which are the backbone of this process. The main storage ring is about 560m in length, has been under vacuum since 2004. The electrons are travelling at basically the speed of light in there, taking just 2 ns to circle the ring. There are in the region of 900 'bunches' of electrons travelling around the storage ring at any point in time, and the gap between bunches is usually 2 ns.
We really benefitted from the fact that the facility was on shutdown for upgrades and maintenance, so we could wander around in the area which is usually full of radiation and see all of the gory details. What's also very cool is that this facility is free for UK scientists to use (ultimately paid for by the UK government and EU funding), and industry can either use it for free if they publish their data, or pay for time if they want to keep the data private. As you can probably tell, I was very impressed! It's also disturbingly clean and well-organised. There are regular, if infrequent, public tours.
So that finished off a hectic few days quite nicely!