I chose the Fairfield Horseshoe as my first Lake District race last weekend (14.5km, 915m). It's apparently a classic, but I'll confess that my decision was based on geographic convenience since I was travelling up to Glasgow. Much like Ras y Moelwyn being part of the UK Championships this year, it turned out that Fairfield was a counter for the English Champs.
It was a tough slog uphill for the first half, but I held my ground fairly well. The wind was a bit cold, but there was no sign of the snow reported by someone the previous day.
MikeHitchmough: Looking fwd to #Fairfield Horseshoe fell race tomorrow. Forecast is rain, 30mph gusts and wind chi… pic.twitter.com/76tP7vu89b

— ***** (@fakebrenthill) May 15, 2015
At the top there were some lovely technical bits where I made up quite a lot of places. Worried that I'd lose ground on the long fast descent back to Rydal Hall, I instead found that something wonderful happened – everyone else disappeared! One guy lost a shoe in a bog, while another fell and twisted his ankle. I made sure he was OK before carrying on, and was enjoying the feeling of having dropped everyone. Until, that is, I got towards the end of the descent and realised I didn't really know where I was going! At this point second lady, who I'd been passing and re-passing all the way, stormed past and thus gave me someone to follow. I remained strong on the final mile or so to the finish; I felt I ran well, and ended up 63rd out of 209 starters, which I was pleased with in the context of an English champs race.
After that I went North, and stopped at one of the remaining UNESCO sites in the UK which I wanted to visit. Unfortunately, New Lanark turned out to be a bit dull. It's very similar to Saltaire and the Derbyshire mills (both also UNESCO), in that it's lots of big mill buildings and associated workers' accommodation. Maybe worth a visit if you're passing, but certainly not the most exciting place I've ever been.
After work visits to Glasgow and Aberdeen, the journey home was punctuated by a stop in Glenridding to go over Helvellyn. It's been a very long time since I went over Swirral Edge, and Nethermost Pike and Dollywaggon Pike were both new to me.
There was still some dirty snow hanging on grimly above Red Tarn, but plenty of wildlife about too now that things have started warming up a bit.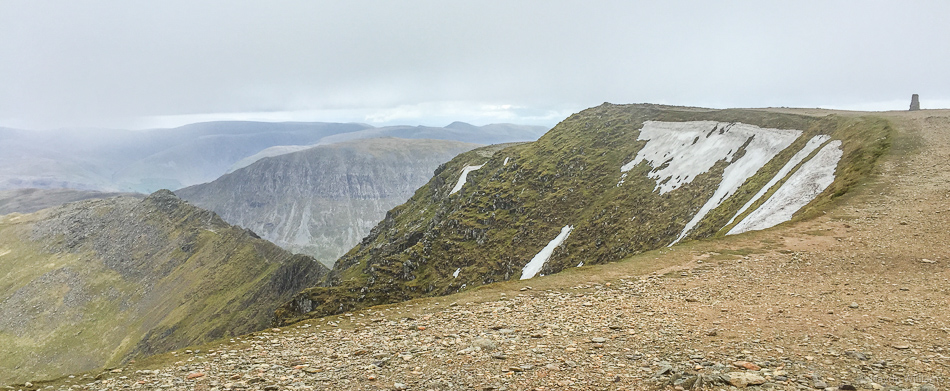 I also found something I'd never spotted before on Helvellyn – a plaque marking the spot where the first aeroplane to land on a mountain in Great Britain did so in 1926. The description of diving off the edge towards Striding Edge doesn't inspire confidence, particularly since they were in this.
Finally, this weekend was a visit to Mum for her birthday, along with a recce of Y Gribin on the Glyders, because I stuffed it up pretty badly on the Welsh 1000m race a couple of years ago and don't really want a repeat again this year.
Despite appearances, it turned out to be really hot. The Bank Holiday meant lots of people around, but everyone was cheery both over Glyder Fawr and then on my slight detour up Y Garn and back down. Lovely.