My parents' caravan is sat on Anglesey at the moment, awaiting a move to Beddgelert at some point in the near future. We thought we'd take advantage of this fact last weekend, and drove through on Friday afternoon. Saturday started nice and early, with a race across the island to get to Penmon lighthouse before sunrise. My ongoing photography project progressed a little further as a blazing ball of sunlight rose in a clear sky.
From there, we followed the narrow road back towards Beaumaris and were treated to spectacular light over the Menai Straits, where herons were fishing the shallows and the calls of curlews rang out across the water.
We made our way across to the mainland and up the Nant Ffrancon valley to Cwm Idwal. After a bracing start in the shade of the Glyders we soon warmed up running a couple of laps of Cwm Idwal, managing to get up there before it got too busy.
Becs then went for a bit of a wander while I managed to finally have a crack at getting up the north ridge of Tryfan in a fast-and-light style. Despite some indecision about line choice further down I got to the summit in forty minutes, which I was pretty pleased with. I reckon I could get it down to half an hour with better line choice and avoiding some of the scrambly bits (but where's the fun in that?!).
Our next stop was Newborough beach on the west coast of Anglesey for some lunch. We ate at the foot of the dunes, and then took a wander across to Llandwyn island and another lighthouse. With plenty of people around it wasn't terribly photography-friendly, but the views back to the mountains were pretty impressive.
We crossed the beach back to Newborough, and finally headed home for some dinner. After such a spectacular day of clear skies and sunshine, I dragged myself out to South Stack at the northern end of Holyhead island to capture the sunset at the eponymous lighthouse. Unfortunately the big bank of cloud sat over Ireland had other ideas, so whenever the sun did drop below the horizon, I certainly didn't see it! I hung around for a bit longer and instead got some shots in gloaming light of dusk.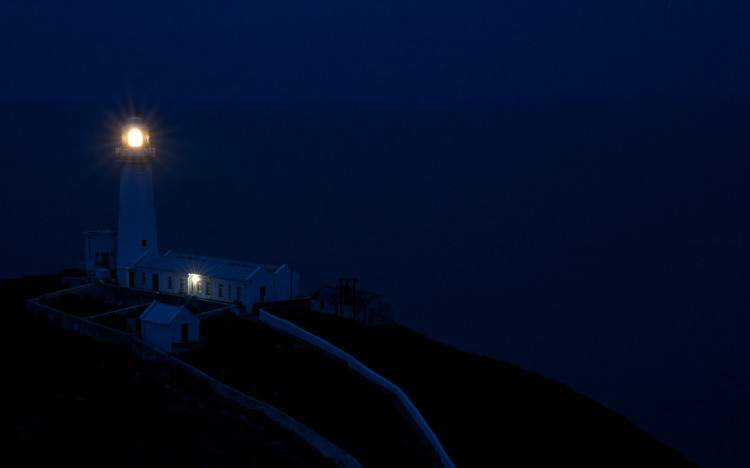 Saturday's antics left us a bit tired on Sunday, so we went for a wander around the old mines at Parys Mountain in the morning. The area has incredibly high levels of copper and other minerals, resulting in some pools of sulphuric acid in the underground workings with a pH of two! The leaflet describing the workings points out that the main 'opencast' was creating using nothing more than picks, shovels and dynamite. I'm fairly sure I could make quite a big hole with dynamite, too. It also delightfully points out that the mountain has been the scene for TV programmes and films including Mortal Kombat 2, a film I doubt anyone has ever actually watched.
After that, it was a blast along the familiar tarmac expanse of the A55, and homeward bound. Certainly not bad weather for the middle of October, and now there's snow on the hills in Scotland so winter's on its way. Hoorah!