Summer holidays came early this year, in the form of a group trip to Cornwall. We made the most of the sunshine on the first day, and headed to the harbour at Mullion Cove.
We arrived at low tide and so were able to explore the cave that cuts under the headland. Unfortunately no-one provided any entertainment by falling into the water.
The good weather continued over the next couple of days, and we got to explore some non-seaside areas of Cornwall too.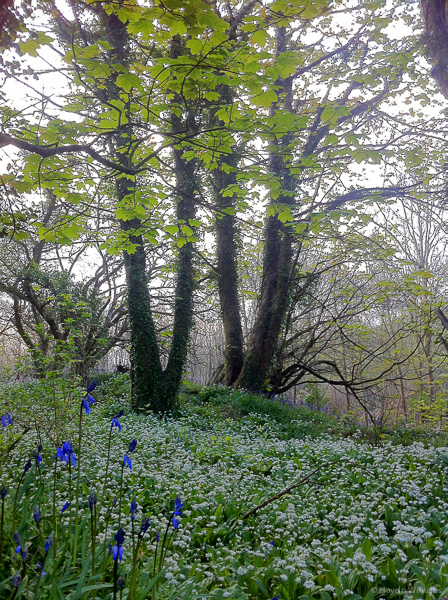 Paul managed to add some excitement to the trip by falling over and breaking his arm, but still managed to clamber around rockpools etc. with aplomb.
As expected from a Cornish holiday there was a lot more beachy action, including a trip to Perranporth where we bumped into our next-door neighbours!
By mid-week the weather was turning, and we took a trip to St. Michael's Mount. Walking out along the causeway was fine, but by the time we were ready for the return journey the rain had set in and even managed to obscure the top of the mount itself.

That rain proved to be the start of a big storm blowing in from the Atlantic, resulting in big swells before our scheduled coasteering trip. The company running it phoned to say that we'd have to change to a more sheltered location, but that it was otherwise going ahead as planned. On arrival at Newquay the wind was blowing massive waves onto the rocks, and lifting sand off the beach to blast the paintwork on our cars.
The "sheltered" side of the headland looked little better, so while other members of the group geared up anyway I bowed out through a desire not to die.
The safety briefing was given and they moved to the first jumping-in point. This was quickly deemed too dangerous, so they moved to the second. Which was also deemed too dangerous. So they moved onto the third. At which point the instructors called the whole thing off.
With the worst of the weather out of the way, we returned to Fistral Beach in more clement conditions the next day and Caesar made good use of the exposed sand.
The trip home was punctuated by a detour for a walk past the Hurlers and on to the Cheeswring on Bodmin Moor.