An excellent forecast and snow on the ground were enough to entice Gary out for a day on Kinder. And what a day it turned out to be!
We left Edale shortly after 9am, and followed the Pennine Way for a little while before skirting around and into Crowden Clough. The snow was dry and powdery, with little ice until the point where the path breaks left and you follow the stream bed for a scramble instead.
It had looked like we'd carried crampons and axes to no avail, but on reaching the step in the riverbed, scene of previous escapades, we found unavoidable ice barring our way. Lovely.
Clearly it wasn't Craig y Rhaeadr but it provided a disproportionate amount of fun under clear blue skies, and the ice was surprisingly thick and cooperative.
From the top, it was off across the plateau to Kinder Gates. We took a bearing and followed our noses a bit, and Gary was very perturbed to find a number of trees shattering the navigational wasteland that used to be the defining feature.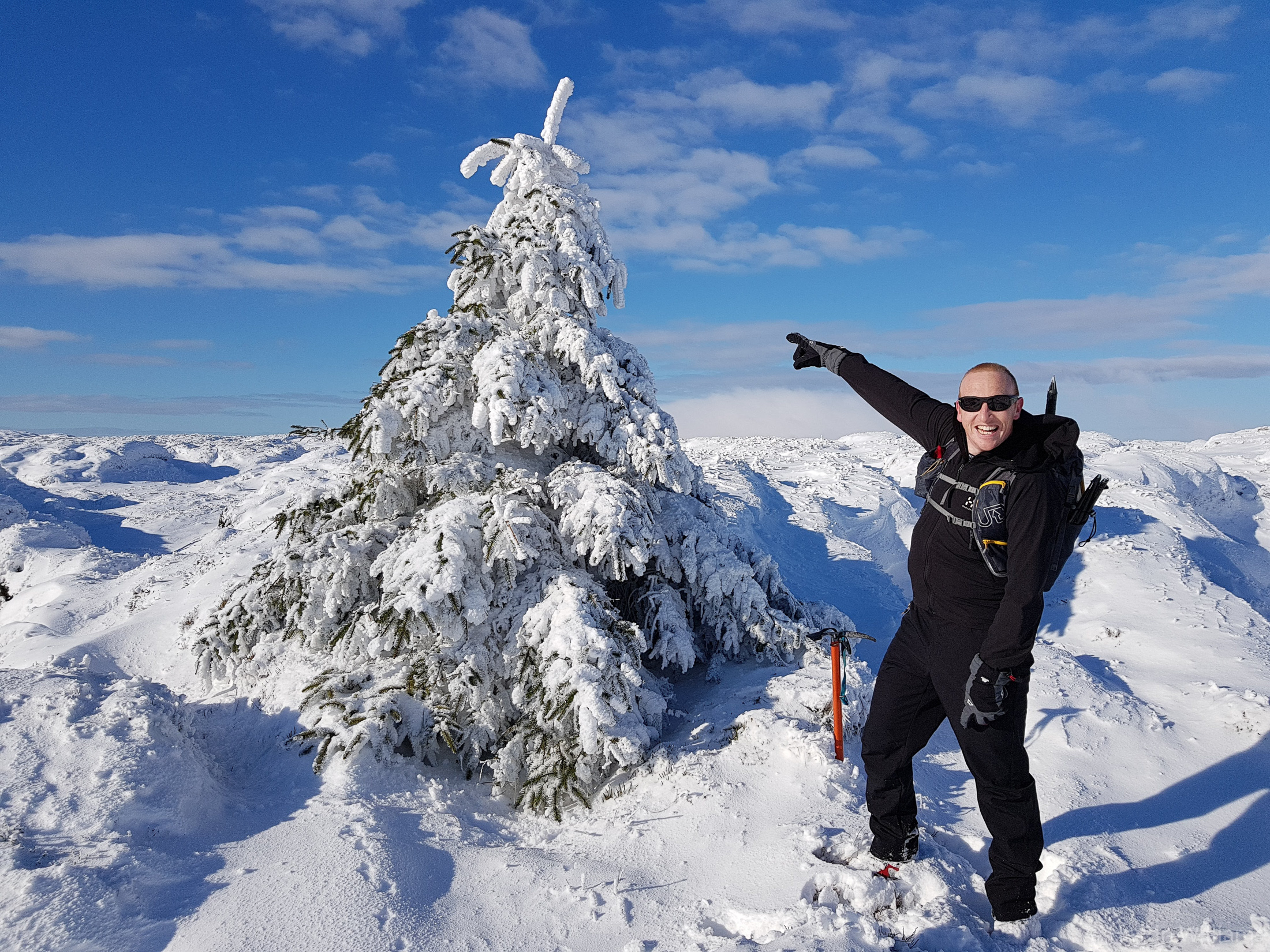 It looked a pretty tough place to grow! We we unable to figure out if they had self-seeded recently as a result of reduced sheep grazing due to the ongoing regeneration work, or if we'd just not noticed them in 20 years of wandering around up there.
The wading continued through knee-deep powder, interspersed with frozen streams in the groughs. I stayed high and put in more work to wade. Gary, in contrast, deemed this to be 'not living dangerously', and instead ran the gauntlet of icy streams with the occasional foot plunge into muddy water when the surface failed.
We eventually approached the Gates, with much giggling each time one of us crashed through the ice, and then took a detour out to the Downfall. It was frozen and looking quite picturesque, and – according to the BBC – saw ascents the following morning.
From there we backtracked to the Gates again, and took a bearing over to the Northern Edges.
That side of the plateau had been much less busy, and we each did our fair share of breaking trail again around to Blackden Brook. This was clearly the leeward side of the plateau, and with so much snow making it hard going I was secretly quite glad to reach the start of the 7-minute crossing back to the south side.
It took a little more than 7 minutes in the snow, but we were soon back overlooking Edale. After a decent amount of research in the following minutes, I can confirm that bum-sliding conditions were excellent and I put in very little effort on the descent. We obviously congratulated ourselves with a drink in the pub before returning to the car, having had a thoroughly enjoyable day.