Last time we visited Iceland, I titled the blog post "Haydn's Gone to Iceland". This time it was a family affair, with my parents and brother & sister-in-law also heading North.
After an evening arrival at Keflavik we did a bit of human/suitcase Tetris and all squeezed into the car. With 80mph winds forecast on the Snæfellsnes peninsula, our planned orca-watching trip the next morning was cancelled. Instead we visited Þingvellir, which was impressive last time and was just as interesting in the snow.
We wandered along the Almannagjá gorge, the edge of the rift between the North American and Eurasian tectonic plates.
Dad set the tone for the rest of his holiday by getting left behind while taking pictures, and we just managed to make it back to the visitor centre before the rain arrived.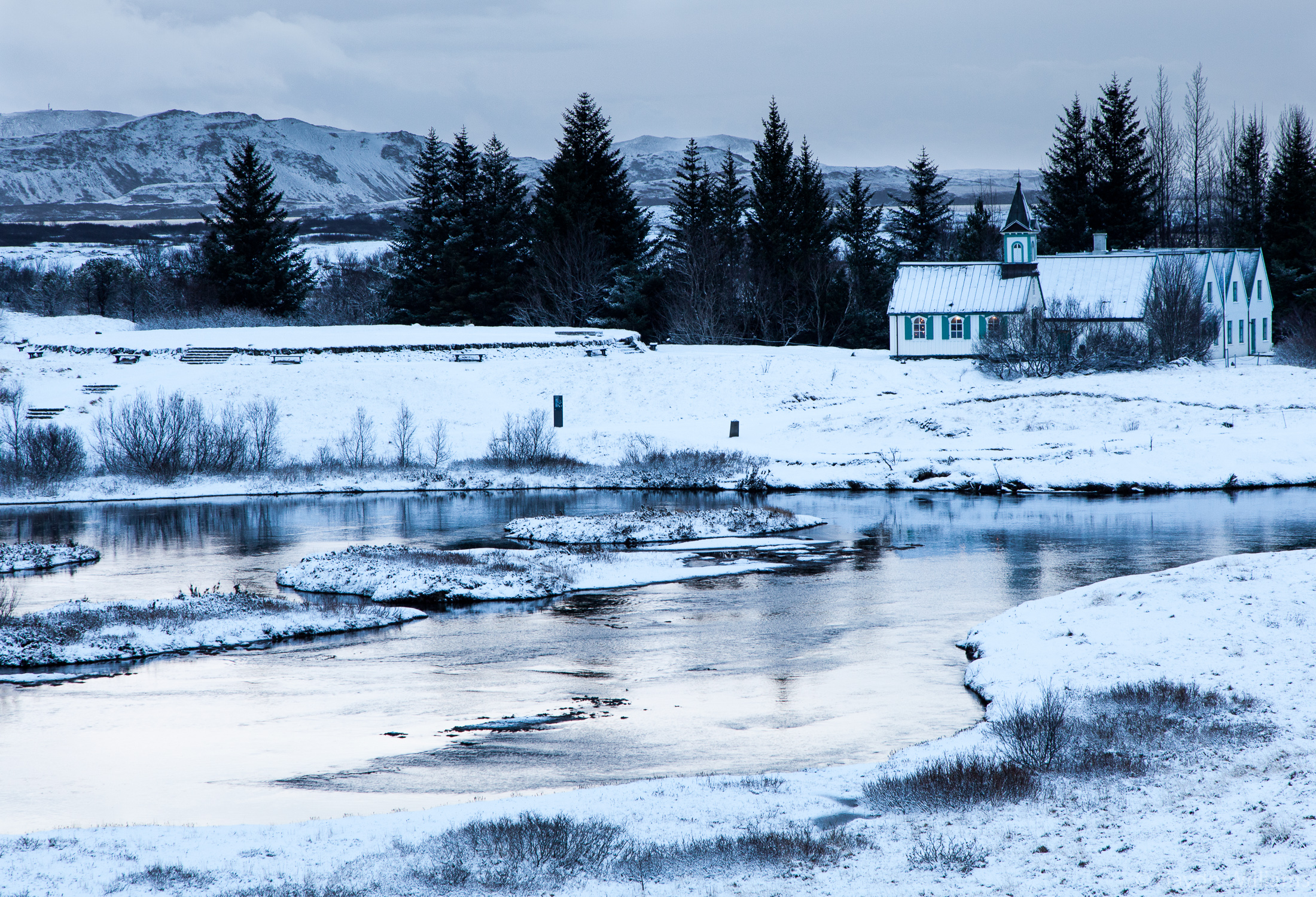 From there it was off to Husafell, further inland, passing Trolls' Falls on the way. These were very nice, despite Becs continuing the building-piles-of-rocks behaviour she picked up in New Zealand. I continued my kicking-down-piles-of-rocks behaviour (hers specifically) so thankfully there was no net gain from our time there.
Close to the Northern Lights Institute, we hoped that our hotel would be the scene of spectacular aurora displays both nights, but alas it was not to be. That didn't stop us having fun during the day though, with the first stop being the Langjökull glacier.
Climbing into the snow and then onto the glacier itself, our eventual destination was a series of manmade tunnels excavated out of the ice. Our tour guide was relaxed and funny, and a perfect example of the laid-back attitude and impeccable English which makes trips to Iceland so easy. He also told us something I had no clue about previously: the UK invaded Iceland (and the Faroe Isles) during World War II.
By the time we emerged from the tunnels to re-embark on our converted NATO missile launcher, the weather had started to clear and the sun made a brief appearance.
After that it was across to Víðgelmir, and a trip down a lava tube cave, formed – as the name suggests – when a tube full of lava emptied out and cooled down.
It was really interesting, and made more so by the fantastic guide who was clearly a massive geology geek and loved being quizzed during our tour.
600m into the tunnel we turned all our torches off for a few minutes to experience true darkness, which was quite interesting, but then some enforced silence with just the drips to listen to made it really cool. I think I could happily have stayed down there for hours. However, we had to leave and so emerged in fading light.
At the beginning of January there are only a few hours of daylight – sunrise was at 11:20 and sunset at 16:10. This meant quite a lot of driving in the dark, particularly the next day when we had an action-packed itinerary to get through.
First up was Geysir, home of the geyser after which all others are named. I wasn't massively impressed last time, but found it more engaging this time for some reason. Indeed, the only thing which took the shine off it was the £30 we paid for a bowl of soup and tub of Skyr for lunch, the value of the pound having slid somewhat in the 'wrong' direction since our last visit!
Ten minutes down the road to Gullfoss, which I was hugely looking forward to simply because I enjoyed it so much last time. I think it had the desired effect of impressing the rest of the family unit.
Onward, then, to the final stop – Seljalandsfoss waterfall, which is huge and can be walked behind, therefore being basically a guarantee that we would end the itinerary on a high. Fortunately we made it before darkness fell, and thus managed to round off a whirlwind four days in style.