June provided an opportunity to do something new – support on a Paddy Buckley round. I've never supported any long rounds before, but the PB was logical given that Snowdonia is my regular stomping ground. It also gave me an opportunity to pinch Mum and Dad's newly-acquired camper van for the weekend – woohoo!
I was assigned Leg 2 by Andy, who was coming in strong off a great result in the long Welsh 1000m race (completed while I faffed about on the short course). He started from Llanberis and reached us with a few minutes spare, and so the climb up Pen yr Ole Wen began (thankfully he chose to go up the nice side!).
I won't say that I wasn't feeling the pressure, as a newbie pacer, but we stuck well to timings and the route, helped in no small part by great visibility throughout. All went swimmingly until the final 3km or so, where I lost my shoe in a bog and had to go double-time to catch up with Andy and Si. Shortly after that I confidently told Andy that I'd run ahead and tell the road support team what food he fancied. The only problem was that I did so far too early – this, coupled with Andy's increase in pace downhill towards food and family, meant I was puffing like a train when I reached Capel.
After a tough leg 3 over the Moelwynion, it became clear that the ludicrous heat was making this a difficult one. Unable to run any more because of an injury, I therefore cycled to Bwlch y Ddwy Elor with food and water to give an extra support stop between Aberglaslyn and Pont Cae'r Gors. A very hot Andy and James duly passed me by, and the true effort of doing such a round really struck me for the first time. Clearly stopping was not an option which had occurred to anyone, despite the furnace-like heat as they began yet another climb.
After a brief stop at Pont Cae'r Gors, the final leg commenced as dusk threatened. I drove around to Llanberis and waited eagerly for some sense of progress. I eventually spotted lights on Moel Eilio, and had the cool experience of watching them descend into town. Sure enough, Andy et al. soon appeared, and the round was successfully completed at a very respectable running pace and well within 24 hours. An excellent effort.
Since then I've continued to struggle with a foot injury, but that's provided plenty of scope for riding instead. I was very pleased to be able to meet up with Ben and family, to carry out a convoluted ride/push/carry escapade over Helvellyn, intercepting their pre-planned hike around Ullswater (the hilly way).
After a sociable wander as far Dollywaggon Pike, I left the group and tried to cycle to Grisedale Tarn while they walked. That plan was quickly abandoned after an unexpected over-the-bars incident (no major injuries), which has since been followed up by an email to the Lake District NPA about surfacing bridleways (I'm not the only one worried!). I then descended to Patterdale, before a horrible push up The Knott. Here I passed competitors on the Lakes Sky Ultra, who all looked very hot and very tired. I considered this a near miss, given that earlier in the year I nearly entered it, before realising that I, too, was very hot and very tired.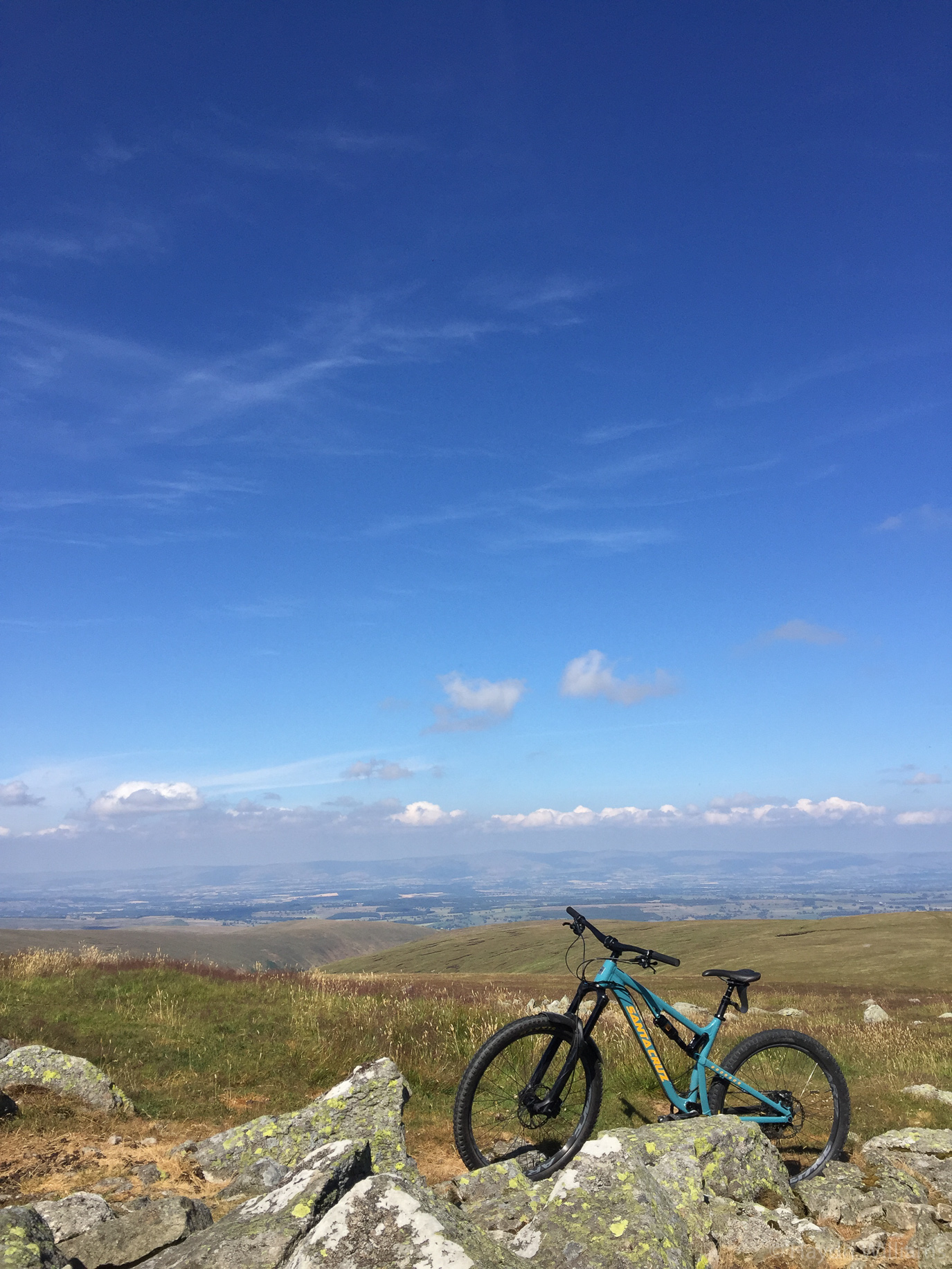 The descent from High Raise to The Cockpit was fantastic – bone dry, nice riding, and devoid of any other people. The original plan had been to catch the ferry from Howtown back to Glenridding, but I was running late so had to pedal it all while having flashbacks to last year's Tour de Helvellyn debacle!
The following weekend was a lovely wedding near Kircudbright, which is conveniently located near to the 7 Stanes trails. I'm slowly working my way around them, having ticked Kiroughtree almost a decade ago, and Newcastleton more recently. A productive weekend saw me on laps of Dalbeattie and Mabie. I found the former a bit too technical to have any real flow, while the latter was good riding but could be improved massively with a few jumps and berms to really maximise its potential (there was a glimpse of this on a short section towards the end, which was absolutely top-drawer). Maybe Scottish trails are the real deal, and I'm just getting spoiled south of the border? The only way to an answer is more riding – stay tuned to see how that turns out.