I am one of a fairly exclusive bunch of runners to have completed the Corris Round. But that's more due to the fact that it was only created in August 2020 than because of any running prowess on my part.
The route was created by father-and-son team Huw and Tom Gilbert, and starts from the Corris Institute, touching 12 Hewitts in the surrounding area. Their time for the 48.6 km / 3,165 m route was 11h 30m, so I had a vague target to aim for. Working against me was their local knowledge; in my favour was the fact that Tom was 12 years old when they ran the inaugural round.
Not really being desirous of an epic, I got an early start but immediately ran into trouble 500m outside Corris. The first few hundred metres of young coniferous forest is awful, and I hopefully followed some orange-taped posts which unfortunately didn't seem to lead anywhere in the end (but strangely do seem to have been useful to at least one other person on Facebook who's since done the round).
From there it was into more established forest, which I still hate navigating in, but where I soon found the mountain bike track alluded to by Huw and Tom, and which I dutifully followed whilst wishing I was on my bike going downhill instead of my feet going uphill.
At the top of Tarren-y-Gesail I hit Dragon's Back Race territory, where the summit forms a horrific out-and-back after Tarren Hendre. This time I was approaching from a different side, which was very pleasant if devoid of view in the mist, and was doing the DBR section in reverse. I was very excited to see that in the four years since I'd been up there, a new downhill track has been carved into the hillside. I can only assume it's part of Dyfi Bike Park, even though nothing on their website mentions the trails going that far up the hillside. Nevertheless, it's made me want to visit!
From there into Esgair Forest, where a sign proclaims it's the only organic sustainably managed forest in the UK. Always thinking of interesting facts to interest you, dear Reader, I made a note to check whether that's still the case. It seems the forest and accompanying timber merchant is now owned by Dan Atherton (of Dyfi Bike Park) and they no longer make any mention of being organic. Shame.
From there it was semi-familiar ground, as I remembered the macrotopographic features but had clearly forgotten some of the smaller bumps and short climbs. Along the ridge to Tarren Hendre there wasn't much to see, but the torrential rain of the first hour had stopped, so I was buzzing along nicely.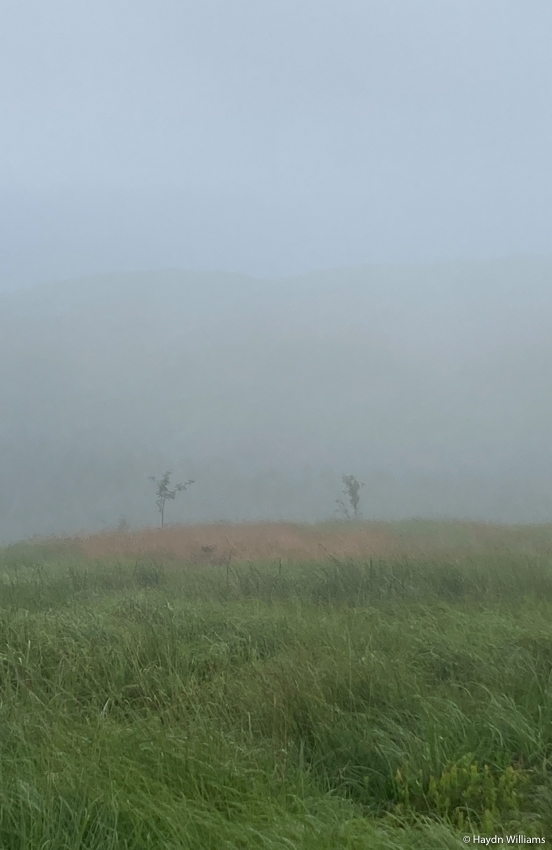 The second half of the descent to Abergynolwyn was quite pretty, starting with a very steep chute down to the forestry and then a lovely riverside path down Nant Gwernol.
From there it's a low-level transition around towards Cadair Idris. I was feeling OK at this point, which was just as well because – unlike the Tea Round – I didn't really have a plan about how to get back to the van if things fell apart.
Regaining the height from almost sea level (my watch said 22m elevation) up to Craig y Llyn (622m) is a bit of a slog, and it's tempting to straight-line from the access land boundary to the summit instead of following the track via Hafotty. However, I'd been scarred by the horrors of bracken wastelands a couple of weeks earlier on the Kinder Dozen, so stuck to the easier ground and avoided too much vegetation-bashing.
From there, more Dragon's Backwards (see what I did there?!) over Pen y Gader to Gau Graig, but not without first touching all of the summits that DBR misses. The rocky out-and-back of Mynydd Pencoed was good to get stuck into on the way out, then a great blast on the short descent again – definitely my favourite type of running, but I knew there were a lot more rolling grassy summits and forestry sections still to come.

I did sit down for five minutes at the top of Pen y Gader, as the heat and lack of water got to me. There are a few streams on the route, but because the terrain is generally lower than the hills further north, for example, almost all of them are grazed by cattle and sheep – this was making me a bit wary about some of them with a wide catchment area. At the summit walls of Gau Graig I dropped down the opposite side of the mountain to the DB route, and from hereon in I was ticking off more new summits and seeing new views.
As I followed the Cambrian Way up Mynydd Ceiswyn I had another bottle refill, then decided a bit later to ditch the refill and use another watercourse I'd found instead. This decision was vindicated as a few minutes higher I turned to see four sneaky cows stood around the original stream, no doubt depositing all kinds of things I didn't want to drink.
From this point onwards my main focus was on finishing, so I didn't get any more photos. The trip out to Waen Oer was OK, and even the final out-and-back to Maesglase wasn't too intolerable (apart from a tick the size of a mouse which I managed to flick off before it sank its jaws into my thigh). I didn't feel like eating much by this point apart from gummy sweets, and knew my water only had to last me down the decent of Mynydd Dolgoed. I'm not sure how somewhere can be both vertical and covered in pine needles, but the last couple of hundred metres to the road were. Thoroughly pooped, I finally reverted to a walk about 1.5km from the car. I knew by that point that I wasn't going to beat the deadline set by someone who had even reached their teens yet, so figured continuing at an effort that was nearly resulting in me throwing up was probably not the most enjoyable way to end the day.
End the day I did, eventually, and felt thoroughly satisfied too. I visited lots of places I've never been before, I increased my Hewitt count and recorded it on hill-bagging.co.uk like a good little list-ticker, and I proved to myself yet again that I may not be fast but I can at least run a decent distance. I was a bit disappointed to feel as tired as I did by the end, but that was soon allayed by my watch saying I'd done over 60 km and over 3,500 m of ascent. I'm not sure where the extra 12 km and 500 metres came from (my nav was pretty good!) but it was definitely a good value day out. Final time 12h 50m. If you fancy seeing a video of the inaugural round then there's a very good (award-winning) short film on YouTube: