Last time we stopped at Bwlch Nant yr Arian, about 12 miles east of Aberystwyth, it was bit cloudy and I wrote a post called "Wet, Windy, Wonderful Wales". We were only passing through that day, but the view wasn't particularly good.
This time was a little bit different…
The cottage was in a fantastic location, basically in a valley next to the owner's house but with absolutely nothing else around (and access down a gated Forestry Commission track!).
The view from the lounge was sickeningly lovely – I thought we had a decent view from our back garden, but this was just something else entirely.
We were also only about 500m horizontally from the visitor centre where the Red Kites are fed, although you realistically have to drive there because it's also almost 150m up a pathless, almost-vertical hillside. Nevertheless, it's quite impressive when you do see them.
I also got to ride the short biking trail, which had some really nice sections, but by this point the wind had picked up so anything involving wheels off the ground was getting a bit hairy. We basically spent a week just walking around various bits of beach and woodland, which was very pleasant.
Mum joined us for a few days in the middle of the week, and we visited the Hafod Estate where we ventured out in search of the Cavern Cascade. Turned out to be totally worth it.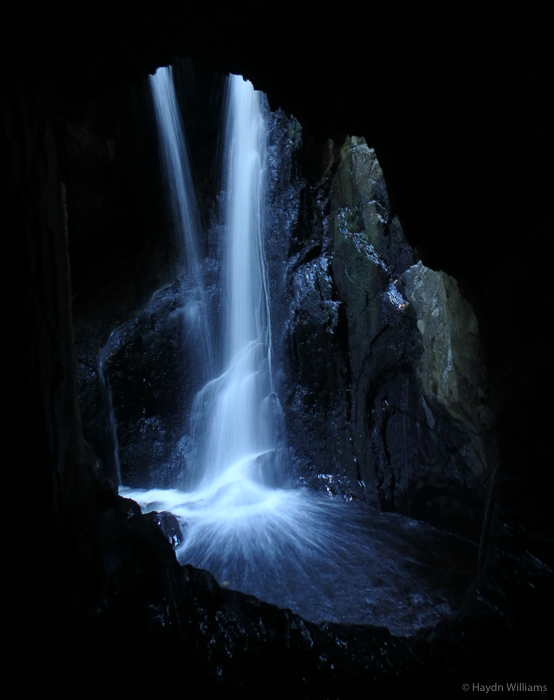 The whole estate is really nice, with some proper deciduous woodland mixed in amongst the usual pine stuff, although even that can be quite pleasant.
I also got in a couple of walks around the higher ground out towards the Elan Valley – it's probably just as well that Becs didn't come because quite a lot of that part of the world is submerged in calf-deep sphagnum moss so I wouldn't have earned any brownie points. I did get to stand right beneath some wind turbines though, which doesn't sound particularly exciting, but it's only when you get up close to them that you realise (a) how bloody huge they are, and (b) how fast the tips of the blades are moving. Well done engineering.
Anyway, it was a chilled-out week of blue skies, hot-tub and nice sunsets, and we did very little so that's all I have to report. :)