We've just got back from a week in Snowdonia, staying in a cottage between Capel Curig and Snowdon. Well-placed for pretty much everything, really, so we got a lot done.
First up was the Powerfan Plummet, a climb up a 100ft pole followed by a jump off whilst attached to a 'parachute simulator'. It essentially brakes your fall, and proved quite interesting but not as adrenaline-inducing as we'd hoped!
Day two was a pleasant dog walk around Llyn Gwynant in the morning (albeit resulting in a trip to the vet for one member of the party), followed by some wet laps of Idwal in the afternoon. Becs, Paul and James walked around  with the dog, while I ran three laps in increasingly strong wind and rain. Nevertheless, I had great fun!
An all-abilities wander along the river at Betws y Coed on day three was a gentle half-day to offset a more strenuous walk up to a bothy in the Carneddau in the afternoon.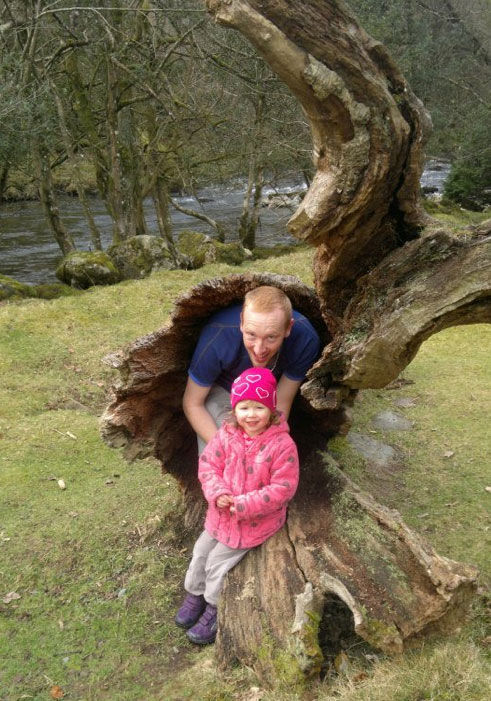 James, Jono, Gareth and I wiled away the evening playing cards, and woke to blue skies. The descent back to the car along Cefn-tal-llyn-Eigiau was rather scenic, and included some lenticular clouds too.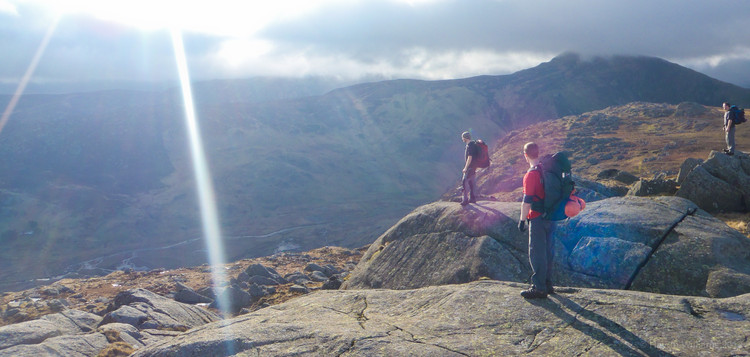 After some lounging around we ventured north to Caernarfon, and I proceeded to put in a poor show at the karting track. I usually get reasonable lap times, but I was feeling tired and so by round two it became a bit of a mission just to hold on into each corner! We were still all pretty evenly matched though, with half a second between our best times. That evening's dog walk was livened up by a 'buzzing' from a Chinook helicopter, and a dramatic sunset over Snowdon.
Day five started lazily, but soon increased in pace as we visited Beddgelert to see what the new forestry commission biking trails are like. They're all at the tame end of the spectrum, but with people starting to feel the effects of a fairy hectic week that probably wasn't a bad thing. My hopes of getting to the Marin or Penmachno trails for a good blast were dashed by the presence of a wobbly crank arm and the ripping of a large hole in the sidewall of my rear tyre. Darn slate!
The weather continued the week's theme of 'cloudy ' when we woke up on day six. Parking at Pen y Gwryd for the morning dog walk and heading up towards Carnedd y Cribau, we soon climbed above the cloud and could see the pocket of poor visibility in which the cottage was sitting.
After dispatching that, we headed over to Penmachno for a trip around the Rhiwbach slate mine (technically a quarry, actually), run by Go Below. This wasn't a standard tour, involving as it did tyrollean traverses, abseils, a bit of climbing, and via-ferrata style roped sections. All very exciting, and not a hint of a handrail, concrete step or electric light anywhere in the mine. Highly recommended.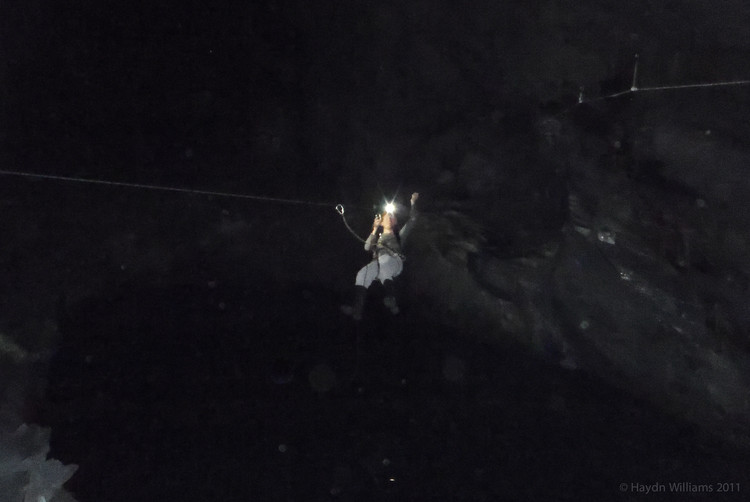 We emerged at the top of the mine that afternoon into glorious sunshine, which continued all the way back to the cottage. Snowdon just looked too tempting as we approached from Capel Curig, so I grabbed my running stuff and set off from Pen y Pass up the Pyg track. I got as far as Bwlch Glas, but turned back at that point to help / watch a rescue of a climber with a suspected dislocated shoulder from the broken ground between the Pyg track and Crib Goch.
The precision and control demonstrated by the crew of the RAF Sea King is something that you really can't appreciate until you see it up close (and I'm speaking as someone who watches a lot of Highland Emergency!).
By the time I'd spoken to various Llanberis MRT people on the way down, it was going dark and I was treated to a lovely sunset and a torch-lit run back to the car at Pen y Gwryd.